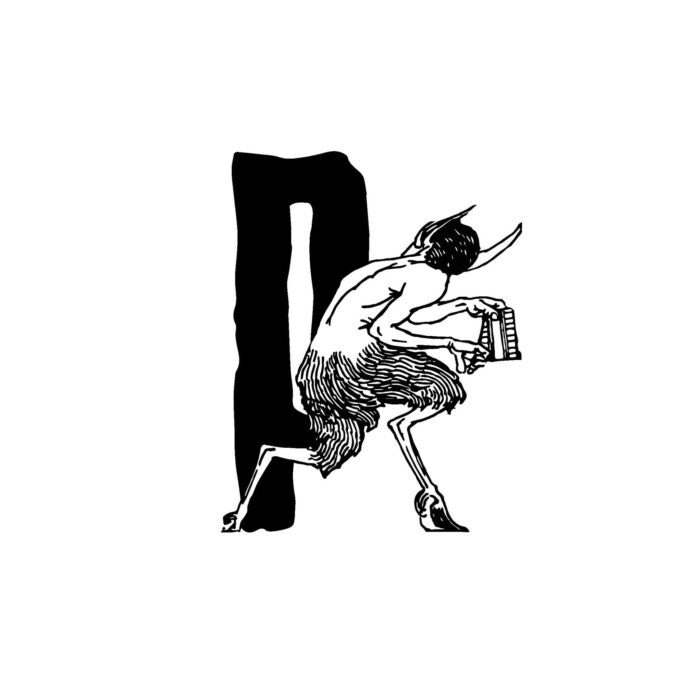 2. OCTOBER 2023 / CLOUDY / 0 COMMENTS / EDIT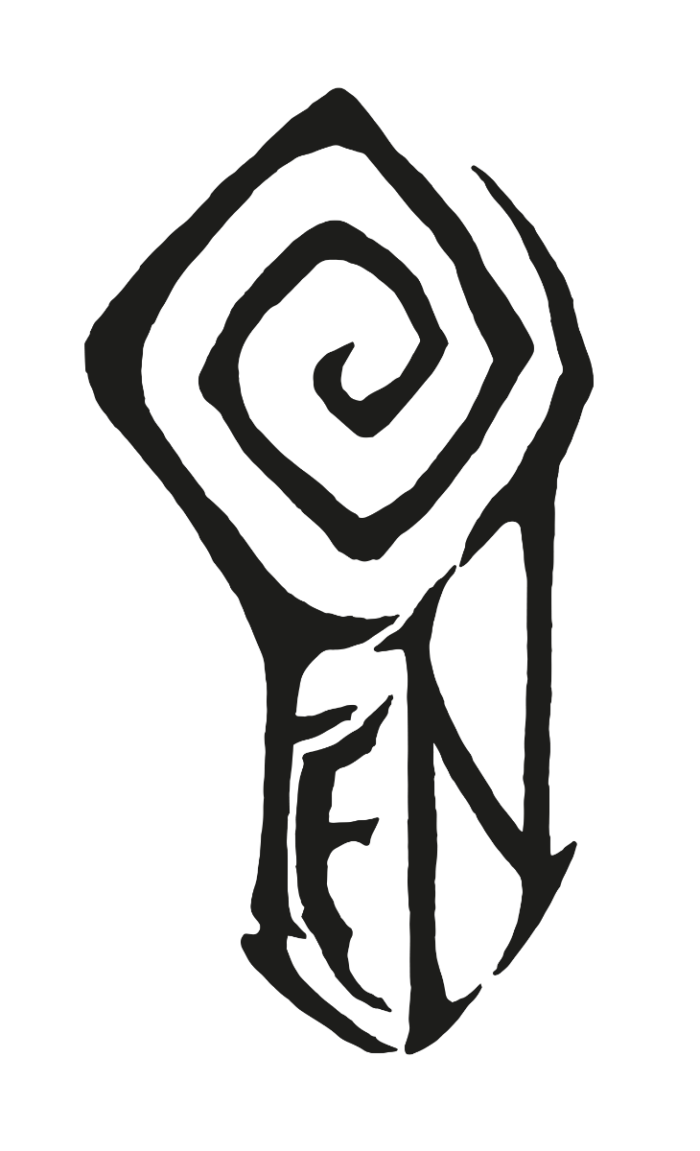 FEN comment: "At long last, we can watch as the beast that is 'Monuments to Absence' finally emerges in its entirety upon the world", mastermind Frank "The Watcher" Allain writes. "We have lived with these songs for nearly three years now – lived and breathed each searing line, each statement of despairing fury, and each moment of cold reflection. Now it has arrived, and we find ourselves bathing anew in this expression of the band at our most visceral. There is anger here, certainly, but it is anger born of despair and futility, our collective cry of horror at what we witness around us. To see this statement realised tangibly and physically is a moment that vindicates the hard work that not only we as a band but also those around us – our label Prophecy, Chris at Foel Studios, and of course our friends and supporters around the globe – have put into this work. We realise, it has been a long time coming and we thank you for your patience as we step into the shadows cast by these colossal, tragic Monuments to Absence."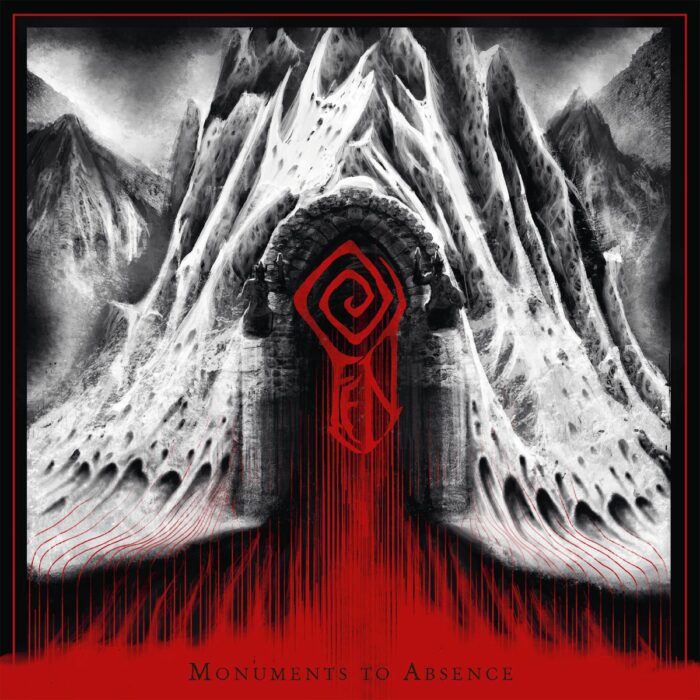 Tracklist
1. Scouring Ignorance
2. Monuments to Absence
3. Thrall
4. To Silence and Abyss We Reach
5. Truth Is Futility
6. Eschaton's Gift
7. Wracked
8. All Is Lost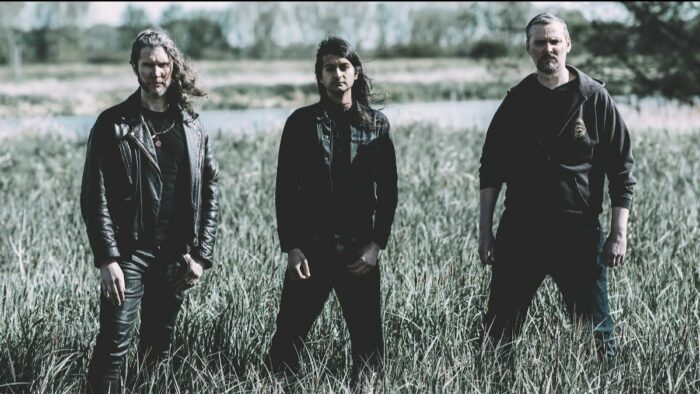 The colour of any FEN album always provides a dead giveaway to its conceptual and musical direction. The cover artwork of the East Anglian's seventh full-length "Monuments to Absence" features an abundance of the colour red for the first time in the band's history.
Psychologically red is an energetic colour often associated with anger or warnings. And indeed, FEN describe "Monuments to Absence" as an expression of anger, hopelessness and despair – anger at the desperate futility of a human species hell-bent on self-destruction, cosseted in a shroud of wilful ignorance with all of the resulting hopelessness and despair that this entails.
The themes of anger and despair are also reflected in the musical direction of "Monuments to Absence", which is audibly harsher and blacker compared to its predecessor "The Dead Light" (2019). Yet FEN have not merely shifted the balance back from the 'post-' to the black metal part of their music. The English trio views "Monuments to Absence" as a crystalline fusion of all of the elements that constitute their sound delivered with power, focus, and intent.
That "Monuments to Absence" is undoubtedly FEN's most extreme recording to date does not mean, the band has abandoned their atmospheric glory with spatial clean sections, heaving doom, and full-blown riffs, augmenting this furious expression of despairing rage.
FEN took their name from the Fens of East Anglia when the trio formed in 2006. These desolate and bleak landscapes have left a deep mark in the post-black metal sound, which the band pioneered in the UK when the English scene revitalised with bands such as FEN, WINTERFYLLETH, and WODENSTHRONE coming to the fore.
When FEN released their debut full-length "The Malediction Fields" (2009), the band made good on the huge promise of their previous EP "Ancient Sorrow" (2007) by delivering a first album that already combined the black metal tradition elegantly with a dedicated atmospheric twist and gentle experimentation beyond the perceived narrow confines of their genre.
With each following full-length, from "Epoch" (2011), via "Dustwalker" (2012), "Carrion Skies" (2014), "Winter" (2017) to "The Dead Light" (2019), FEN have expanded both their musical range and following, while also perfecting their recognisable and unmistakable sound. Although not the hardest touring band, they have already performed at prestigious festivals such as SWR Barosselas Metalfest (PT), Damnation (UK), and Prophecy Fest (DE), and have hit the road with NEGURĂ BUNGET, WODENSTHRONE, and AGALLOCH among many others.
"Monuments to Absence" marks FEN's welcome return to a blacker and harsher sound. Red hot anger runs strong in the East Anglians this time. Crank up the volume!
Line-up
The Watcher (Frank Allain) – vocals, guitars
Grungyn (Adam Allain) – vocals, bass
J.G. – drums
 
Production, engineering, mix & mastering
Chris Fielding at Foel Studios, Llanfair Caereinion, Wales, UK
Artwork by Grungyn (Adam Allain)
Layout by Łukasz Jaszak

Links
www.facebook.com/fenofficial
www.instagram.com/fenbanduk
Shop
http://lnk.spkr.media/fen-monuments
Available formats
"Monuments to Absence" is available as 36-page hardcover 2CD artbook, as a gatefold marble red and black vinyl 2LP, a gatefold black vinyl 2LP, and as a Digipak CD.

_______________________________________________________________
2. OCTOBER 2023 / CLOUDY / 0 COMMENTS / EDIT
In a close cooperation, ALCEST and Prophecy Productions are reissuing the French blackgaze pioneers' milestone release and third studio full-length "Les Voyages de l'âme". The album was originally released on January 6, 2012. Due to production shortages and the complex nature of manufacture, these special reissues will come out some months past the initially planned date of release in connection to their 10th anniversary.
ALCEST comment: "XXX", mastermind Neige writes. "XXX."
"Les Voyages de l'âme" will be reissued in three beautiful limited editions:
Hardcover artbook
A 60-page hardcover artbook that includes the CD with two bonus live tracks, a preface by Neige, liner notes by Roadburn Festival mastermind Walter Hoeijmakers, translations of the French lyrics into English, images, artwork sketches and photos from the "Les Voyages de l'âme" era.
Hologram vinyl
A handcrafted, gold-framed hologram vinyl LP that reflects light in all colours of the rainbow, which is strictly limited to 100 hand-numbered copies.
Vinyl picture disc
A picture vinyl LP limited to 1.000 copies.
Tracklist
1. Autre Temps
2. Là où naissent les couleurs nouvelles
3. Les Voyages de l'âme
4. Nous sommes l'emeraude
5. Beings of Light
6. Faiseurs de mondes
7. Havens
8. Summer's Glory
Bonus tracks (book edition only)
9. Autre Temps (live at Hellfest 2022)
10. Là où naissent les couleurs nouvelles (live in Lyon 2018)
When ALCEST released their third studio album "Les Voyages de l'âme" in early 2012, the French were probably not expecting their own stylistic creation for which the term 'blackgaze' is by now firmly established to break out of its underground niche.

Of course, their sophomore full-length "Écailles de Lune" (2010) had already received accolades from critics and fans alike and been widely discussed in the music press, particularly within the metal scene. Yet with "Les Voyages de l'âme", ALCEST found themselves glowingly reviewed in the New York Times and other mainstream outlets as well as in the centre of attention from live booking agents.
One event stood out: In the 2013 edition of the prestigious Roadburn Festival, ALCEST had been invited to perform the complete "Les Voyages de l'âme", which marked a huge milestone in the bands long history of successes.

Post-black metal or blackgaze as pioneered by the French is musically defined by a lucent sound of dreamlike quality that ALCEST have perfected to an otherworldly beauty and which the French still continue to define and refine.

ALCEST's "Les Voyages de l'âme" is already considered as a modern classic and this cornucopia of musical wonders and haunting beauty is rightfully celebrated more than a decade after its original release with these spectacular reissues.
Recording line-up
Neige – lead and backing vocals, guitars, bass, keyboards
Winterhalter – drums

Recorded by Markus Stock at Klangschmiede Studio E, Mellrichstadt
Mix & mastering by Neb Xort

Cover Art by Fursy Teyssier
Design by Valnoir
Photos by Andy Julia
Formats
"Les Voyages de l'âme" is available as a 60-page hardcover artbook that includes the CD with two bonus live tracks, a preface by Neige, liner notes by Roadburn Festival mastermind Walter Hoeijmakers, and more material. Also as handcrafted, gold-framed hologram vinyl LP (ltd. 100 hand-numbered copies), and as a vinyl picture disc (ltd. 1.000 copies).
Shop
http://lnk.spkr.media/alcest-voyages-10

www.facebook.com/alcest.official
www.instagram.com/alcestofficial
____________________________________________________________
2. OCTOBER 2023 / CLOUDY / 0 COMMENTS / EDIT

From a decade of twilight, Finnish dark folk ensembleTENHI return to the light with a lyric video for the new track 'Saattue' ("Convoy") as the first single taken from their forthcoming album "Valkama" ("Harbour"/"Shelter"), which has been slated for release on June 9, 2023.
TENHI comment: "We are proud to present this lyric video for the opening track 'Saattue' from our upcoming new album 'Valkama'", Tyko Saarikko writes on behalf of the band. "This record has been long in the making, but finally we found the haven, 'Valkama', that we've been searching for. The background picture of the video is actually the cover art of the album. We truly enjoyed making the cover come alive by using simple yet effective means such as candlelight and real smoke, which is giving it a more eerie feeling."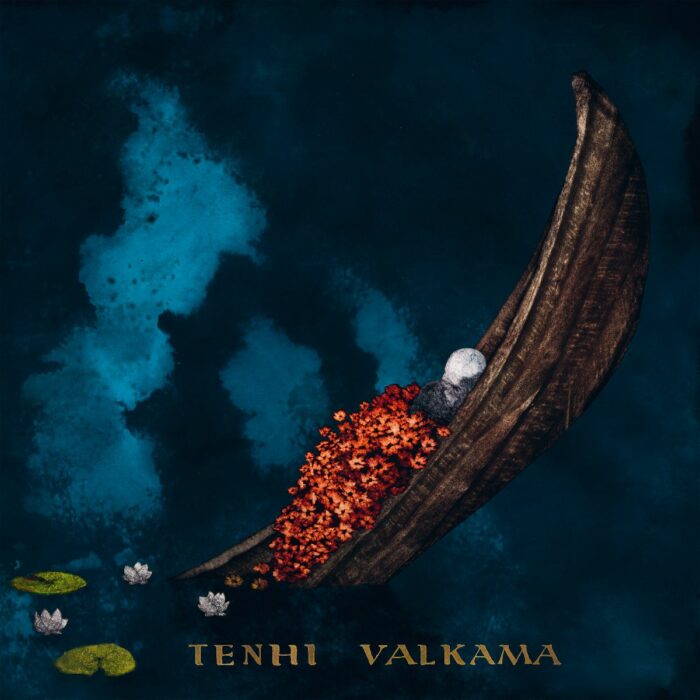 Tracklist
1. Saattue
2. Kesävihanta
3. Valkama
4. Rintamaan
5. Rannankukka
6. Laineinen
7. Hele
8. Ulapoi
9. Elokuun linnut
10. Sydämes on tiel
11. Veden elein
12. Aina sininen aina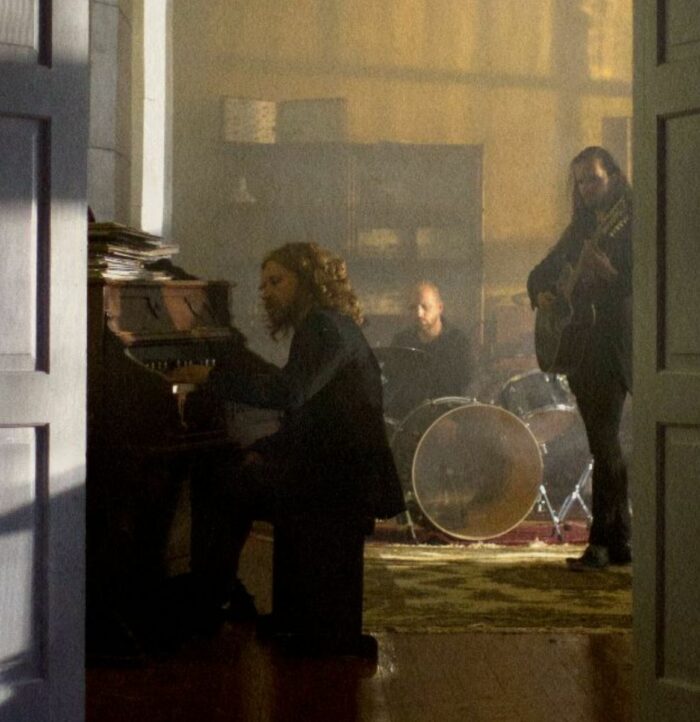 When night falls onto the sub-arctic landscapes of the Land of the Thousand Lakes, in the twilight of forest and swamps, the veils between our reality and the otherworld grow thin. It is at those times that stories such as 'the fairy tale that never was' leak into the lyrics and music of TENHI.

On their sixth album, "Valkama", which translates as 'harbour' or 'shelter' among other meanings, the Finns originally began telling of a journey that was meant as a fairy tale in a burning, war-torn village and the crossing over dark waters to an island of the dead. The island is called Verisurma ('the place for those who have suffered blood-death') in Finnish folklore, where those dwell that died in war or were killed with a blade, and who shed blood on its shore forever.
Yet, during the ten years that TENHI were working on the album, our reality started to bleed into the otherworld with its own terrors and wars. Year after year, the musicians felt their story becoming more and more real until the point was reached that the band decided to change course.
Although echoes of the original work are still audible in the final music and visible in the artwork, the album now feels more harmonious and comforting, even brighter. The journey from this world to the other is more abstract and peaceful while still crossing dark waters, but after a decade TENHI have found the harbour called "Valkama".
This transition of the story but also the long journey that the band undertook to reach their sheltering harbour are both reflected in the artwork of "Valkama": An old wooden boat serves as a metaphor for various meanings such as a vessel, a coffin, a womb, a shelter, change, and the journey itself.

TENHI could hardly have picked a more suitable band-name. This old Finnish word means a person that is an 'elder' or 'shaman'. And while the shamans of the ancient nomadic Finns are the guardians against but also the mediators between their communities and the spirit world, TENHI are their musical equivalent as a liminal force between dark folk, folk rock, and even reaching out into the normally electrified world of metal. The latter invites comparison with WARDRUNA and HEILUNG, although in a spiritual meaning and certainly not by way of a stylistic comparison.
TENHI were conceived by guitarist and vocalist Tyko Saarikko in 1996. Ilmari Issakainen joined the band few years later. Together they form the creative core of the group. After self-releasing the demo "Kertomuksia" (1997) and the MCD "Hallavedet" (1998), the Finns immediately hit a nerve with their debut full-length "Kauan" in 1999. TENHI started into the new millennium with another MCD entitled "Airut:ciwi" (2000), which was followed by a string of albums from "Väre" (2002) via "Maaäet" (2006) and "Airut:aamujen" (2006) to "Saivo" (2011).

With each new album, the Finns continued to grow a dedicated following that is coming from different musical directions. From the start, TENHI have combined acoustic instrumentation and a traditional vibe with structures based on contemporary rock music. While their previous full-length "Saivo" tilted more towards an ambient-style and panoramic soundtrack feeling, "Valkama" returns to a more song-oriented approach – even though the tracks retain an epic and meandering format.
"Valkama" comes with the trademark Finnish longing and melancholia, but despite its audible darkness, TENHI offer a musical outlet from the horrors of the modern world. In the twilight world of the North, "Valkama" is the silver-lining on the horizon promising shelter and peace.
Line-up
Tyko Saarikko – vocals, guitar, harmonium and piano
Ilmari Issakainen – guitar, piano, drums, bass and backing vocals
Tuukka Tolvanen – backing vocals
Inka Eerola – violin
Janina Lehto – flute and backing vocals
Jaakko Hilppö – backing vocals
Guest musician
Miika Vuoristo – viola on 'Ulapoi'
Jussi Lehtinen – backing vocals on 'Ulapoi'
Paula Rantamäki – backing vocals on 'Kesävihanta' and 'Aina sininen aina'
Recording and mix by Tyko Saarikko, Ilmari Issakainen and Tuukka Tolvanen at UTUstudio (2014-2022)  
Mastering by Tyko Saarikko, Ilmari Issakainen and Tuukka Tolvanen at UTUstudio
Additional mastering by Markus Stock at Klangschmiede Studio E (2022)
Artwork & Layout by Tyko Saarikko
Formats
"Valkama" is available as a 36-page hardcover artbook with regular and bonus CD, and as Gatefold 2LP on black vinyl, on clear vinyl, and as a CD.
Shop
http://lnk.spkr.media/tenhi-valkama

www.http://utustudio.com
www.facebook.com/tenhiband