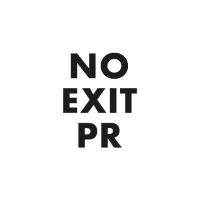 1. OCTOBER 2023 / CLOUDY / 0 COMMENTS / EDIT
1. OCTOBER 2023 / CLOUDY / 0 COMMENTS / EDIT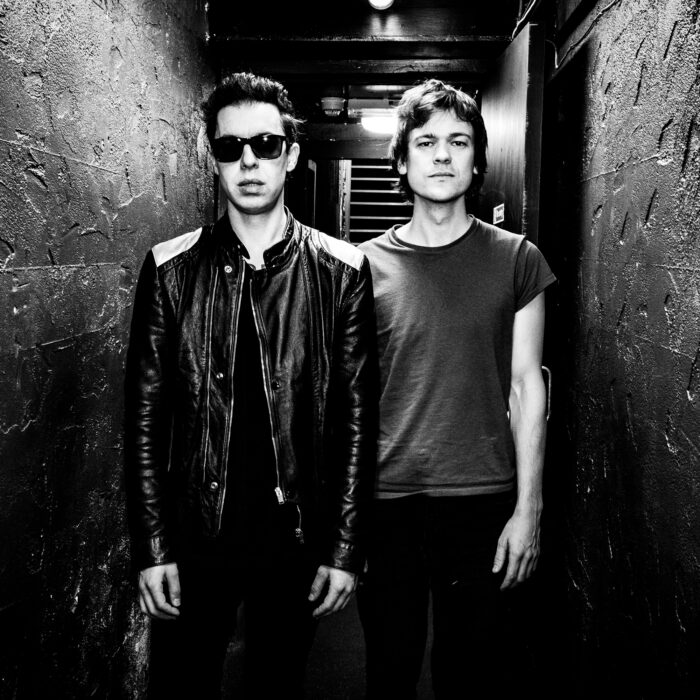 Photo by Chris Hogge | High-res HERE
Brooklyn-based minimalist post-punk/synth-pop duo The Vacant Lots are today announcing their fifth studio album 'Interiors' and sharing a video for the lead single 'Amnesia'. Watch the video here: https://youtu.be/16UGGin8NBM
Due out October 13th via Fuzz Club, the 8 songs on 'Interiors' synthesise all of the band's past work while pushing forward into the future. It's Jared Artaud and Brian MacFadyen's darkest and most visionary work yet. Ethereal metallic synths and blistering electronics are driven by disco-on-downers dance beats lashed with gutter-rock guitar riffs and icy detached vocals with evocatively concise and lacerating lyrics.
Recorded over many sleepless nights and amphetamine-fueled mornings in the project's isolated Brooklyn bunker home studios, 'Interiors' follows the band's minimal is maximal aesthetic coalescing into dark bedroom anthems for loners and lovers with nods to 70s/80s punk and nightclub music ala Joy Division, Iggy Pop's The Idiot, Depeche Mode, and New Order. The album sees The Vacant Lots team up once again with Maurizio Baggio (The Soft Moon, Boy Harsher) on mixing duties, who also worked on the band's last two albums, 'Closure' (2022) and 'Interzone' (2020).
On the single 'Amnesia,' Jared Artaud says: "It's about dealing with duality and integrating the conflicting feelings within a relationship. It's about feeling dissociative and getting burned by the fire. Then coping with how this inevitably leads to the dissolution of the relationship. This is a mantra for all the songs on the album."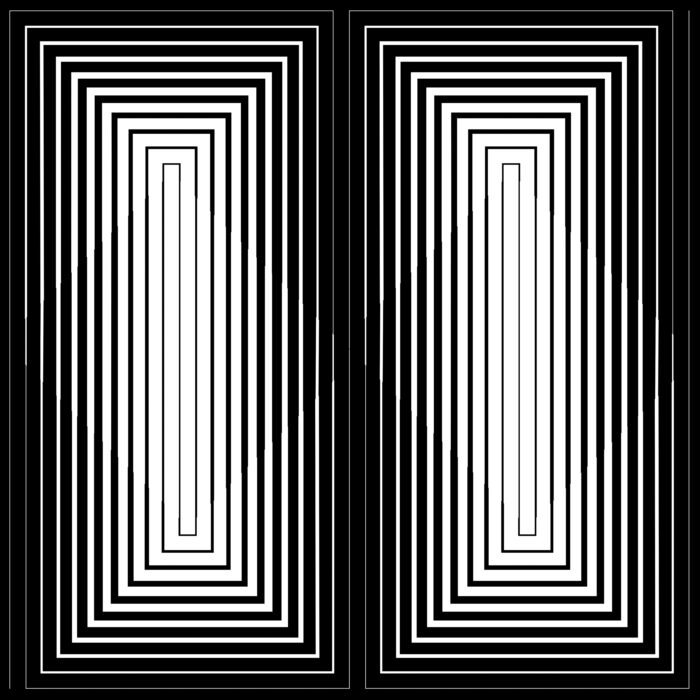 Interior artwork by Ivan Liechti, Hi Res HERE
Longtime supporter of the band, and godfather of punk, Iggy Pop premiered 'Amnesia' on his BBC 6 Music show and has said of the band: "The Vacant Lots are great. They're a terrific recorded band who are both practitioners and killer curators of everything cool." The single is released alongside a video created by Alexander Schipper and starring model and actor Mateen Ismail.
On the 'Amnesia' video, Artaud adds: "Alex Schipper is a master of taste. We worked together on some videos for our last album Closure. He's a great artist to collaborate with and really gets our minimalist aesthetic. A mantra for the band is 'through darkness, light.' Alex translated that beautifully in the Amnesia video featuring Mateen Ismail, who really completed the vision."
UPCOMING LIVE SHOWS
Oct 19 – London, UK @ The Shacklewell Arms
Oct 21 – Paris, FR @ Supersonic
Oct 23 – Berlin, DE @ Urban Spree
'INTERIORS' TRACKLIST
1 Amnesia
2 Paradise
3 Ashes
4 Evacuation
5 Destruction
6 Scars
7 Endgame
8 Damaged Goods
Facebook / Twitter / Instagram / Website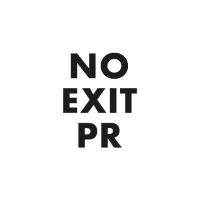 _______________________________________________________________
19. JULY 2023 / CLOUDY / EDIT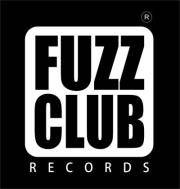 The Jesus and Mary Chain are today sharing a live version of 'Half Way To Crazy' from their newly-announced 'Sunset 666' album, due out August 4th 2023 on Fuzz Club. Recorded live at the Hollywood Palladium in 2018, whilst the Mary Chain were touring North America in support of Nine Inch Nails, 'Sunset 666' is a discography-spanning set that includes tracks from 'Psychocandy', 'Darklands', 'Automatic', 'Honey's Dead', 'Stoned and Dethroned', 'Munki' and 'Damage and Joy'.
Originally taken from their 1989 album 'Automatic', you can listen to the 'Sunset 666' version of 'Half Way To Crazy' here: https://tjamc.lnk.to/halfway
ALBUM SMART LINK: https://tjamc.lnk.to/sunset666
On the single, the Mary Chain said: "Side D of the 'Sunset 666' vinyl is taken from the December 11 2018 show at The Hollywood Palladium with Nine Inch Nails and includes a few of our favourite songs from 'Automatic' to play live. This version of 'Half Way To Crazy' really gets the energy of that night."
Set for release on double LP vinyl, CD and digital, 'Sunset 666' sees the Mary Chain deliver a set of classics with a composed intensity. The album will be released the same day the Mary Chain perform at London's Crystal Palace Bowl alongside Primal Scream and The Black Angels as part of this year's South Facing Festival.
SUNSET 666 TRACKLIST

1 Just Like Honey
2 Sometimes Always (feat. Isobel Campbell)
3 Black and Blues (feat. Isobel Campbell)
4 Amputation
5 All Things Pass
6 Some Candy Talking
7 Head On
8 The Living End
9 Cracking Up
10 Teenage Lust
11 I Hate Rock 'N' Roll
12 Reverence
13 Blues from a Gun
14 Far Gone and Out
15 Between Planets
16 Halfway To Crazy
17 In A Hole
UPCOMING SHOWS
04/08 – London, UK @ South Facing Festival (With Primal Scream)
17-19/11 – Benidorm, ES @ Primavera Weekender (Festival Headliners)
MORE ON 'SUNSET 666'

In 1990, a young American band, full of a precise kind of noise and darkness, were special guests on the US tour being undertaken by a group who had noise and darkness, poise and catharsis of their own. The young band: Nine Inch Nails. Those headliners: The Jesus and Mary Chain.
Almost thirty years later, an invitation was extended. Would the Reid brothers care to reverse the roles and open for Nine Inch Nails – by then international stars and cultural touchstones – on their North American tour? Trent Reznor had been a fan of the Mary Chain, and influenced by them, since hearing 'Psychocandy', so it felt a good fit.
The tour opened in Phoenix, Arizona, in September 2018 and ended with a run of six shows at the Hollywood Palladium in Los Angeles, coming up on Christmas. The seventeen tracks on this album were recorded at two of those shows. Sides A, B and C (in the language of vinyl) are from the final show, December 15. Those twelve songs were the full set that night, in sequence, meaning the show began with the here-we-fucking-go drums of 'Just Like Honey' and ended with the ferocious euphoria of an eight-and-a-half minute 'Reverence'.
Side D of the vinyl record is taken from the December 11 show and serves almost as a mini-showcase of the 'Automatic' album, featuring versions of 'Blues From A Gun', 'Between Planets' and 'Half Way To Crazy'. The closing track, 'In A Hole', more of a snarl in its live version than 'Psychocandy's white-noise whine, is an anthem of self-loathing that shares some DNA with the song Nine Inch Nails chose to close their set: 'Hurt'.
The full Mary Chain show from December 15 was selected for Sunset 666 because Isobel Campbell performed on that evening. She already had a relationship with the band, having sung on 'Damage and Joy', and she was living in Pasadena – close to William's place and just a cab ride from the venue. Her presence meant they could include in the set a duet they hadn't performed for many years, 'Sometimes Always', as well as 'Black and Blues'.
Isobel hadn't played live for some time, having had some difficult experiences in the music industry, and had fallen into reclusive ways. How did she find being back on stage? "To be surrounded by that sound was completely electric," she recalls. "I love singing with Jim. That time in my life was pretty bleak, and being around the band and their people reignited a spark in me that had been dormant. And I was blown away by William. He's a guitar genius; one of a kind. It feels like we're all kindred spirits. I can't think of a band I would rather sing with."
That there is an album at all is serendipity. No plans were made to record any shows but as Michael Brennan, the sound engineer, acquainted himself with the rented mixing console, he discovered it had a wee USB-out socket. He plugged in his laptop and saved.
There were several imperfections in the recordings. Michael had been properly focused on the live sound and hadn't placed microphones to capture audience noise, so the crowd seems distant. There are a couple of wrong notes and errors in timing, but these defects were of no great concern because the overall aura was so alive and aggressive, the bass and drums deep and crisp and pounding. It was decided to keep all the mistakes and to cut only the extended pauses between songs during which William fidgets with his ancient Gibson.
For Jim, the experience of playing in front of an audience is very different from how it was when the Mary Chain were establishing and building their reputation as a sometimes chaotic live band. "In the 1980s, after punk rock, I used to think that the frontman had to go out and explode on stage. I couldn't do that because I'm basically a shy, quite timid person. I'm not Iggy Pop. I'm not going to cut my chest open with broken glass. The only way I could think to get through the experience was to get absolutely off my tits on whatever I could; alcohol and, later, drugs. When the band reformed, in 2007, I had been sober for five years at that point. So Coachella, believe it or not, was the first sober gig I did with the band."
"There were big chunks of the Mary Chain's career when I was faking it on stage because I was so terrified, whereas I enjoy the shows now. I know it seems like I'm not relaxed; my default setting is to look like I'm having a nervous breakdown. But I feel much more in control on stage. I prefer these sober shows to the fucked-up shows."
Control is the key word. For those of us who admire the Mary Chain, the pleasure of Sunset 666 is the steady power with which they deliver a set of classics. There is a composed intensity in the performance that suggests this music is still alive for the men who wrote it. "Yeah," says Jim. "People always say you must get sick to death of Just Like Honey, but I swear to God I don't. I still get into those songs. When the band reformed, everything felt new to us again. Reverence, I can get totally lost in that."
As will anyone who hears it. Listening to this album, for anyone who has followed the Mary Chain over the years, calls forth many personal memories and associations. Some would dismiss that as nostalgia, but it's actually a remarkable and beautiful thing: the ability of music to sing our own stories back to us. "It's gone beyond entertainment," Jim agrees. "These songs are part of people's lives."
– Peter Ross
FB: https://www.facebook.com/JesusAndMaryChain
Insta: https://www.instagram.com/jesusandmarychain/?hl=en
Website: https://themarychain.com/
Spotify: https://open.spotify.com/intl-de/artist/4rjlerN21ygkIhmUv55irs?autoplay=true
Bandcamp: https://thejesusandmarychain.bandcamp.com