Today as a guest, one of my favorite bands. First of all, Andrew answered. Have fun reading.
Please take a seat to get to know us -with Andrew from Unify Separate
Where´s your god now? SAME PLACE THEY ALWAYS WERE.
Where are you and what are the vibes like? IN BED. TIRED BUT WIRED.
What was the last thing you ate? SOUR CANDY.
What was the last good book you read? A BIOGRAPHY OF STEVE MCQUEEN.
Favourite political figure? NONE OF THEM.
What TV Shows do you try not to miss? I DON'T WATCH TV.
What sports are you good at? NONE REALLY, THOUGH I LIKE PLAYING INDOOR FOOTBALL.
Which public figures do you most despise? PUTIN, TRUMP, BORIS JOHNSON, THE FAR RIGHT.
Favourite cities? ROME, BERLIN, COPENHAGEN, MILAN, STOCKHOLM, REYKJAVIK, LOS ANGELES.
Most embarrassing records in your collection? I HAVE NO SHAME.
Punchline to fave joke? "I KNOW, IT'S A CRACKER, ISN'T IT?!"
Favourite journeys? ANY ONE THAT LEADS TO DOING A LIVE GIG.
Name three great songwriting partnerships? HOLLAND-DOZIER-HOLLAND, RING-SZARY-BRONSERT, JOSEFSSON-MONTGOMERY.
Worst lyric you´ve ever heard? "I WANNA LICK YOU UP AND DOWN UNTIL YOU SAY 'STOP'!"
Favourite historical characters? ABRAHAM LINCOLN; HILDEGARD VON BINGEN; WILLIAM WALLACE.
Who´s overrated? EVERYONE. WE'RE ONLY HUMAN AFTER ALL.
Who´s underrated? EVERYONE. WE'RE ALL WALKING MIRACLES DESPITE OURSELVES.
What scares you? LONELINESS AND LOSS.
What bores you? SOCIAL MEDIA; NARROW-MINDEDNESS.
Can you quote a line of poetry? "WEE, SLEEKIT, COW'RIN, TIM'ROUS BEASTIE/OH WHIT A PANIC'S IN THY BREASTIE!"
Where would you like to retire to? SOMEWHERE SAFE, TEMPERATE AND LOVING.
Name a song that can make you cry? I BELIEVE IN YOU (TALK TALK).
When were you last drunk? UNFORTUNATELY I HAVE HOLLOW LEGS, SO ALCOHOL HARDLY EVER GETS ME DRUNK. IT'S A CURSE.
What was the last dream you can remember? ONE WHERE A TIDAL WAVE CAME RIGHT UP OVER THE BEACH AND CLIFFS TO THE HOUSE WHERE I WAS STAYING, THOUGH IT DIDN'T SWEEP ME AND THOSE IN MY COMPANY AWAY. THEY SAY TIDAL WAVE DREAMS ARE HARBINGERS OF GREAT PERSONAL CHANGE, BUT I'M STILL WAITING FOR SOMETHING TO HAPPEN.
Three records guanranteed to make you dance? ONE MORE TIME (DAFT PUNK); THE LOOK (METRONOMY); DANCING ON MY OWN (ROBYN).
What can you cook? MANY THINGS, BADLY. A PASTA BOLOGNESE IS USUALLY SAFE.
Where do you go to chill out? MY BED WHEN I'M ALONE.
What was the last great record you heard? EVERYBODY'S SAFE UNTIL… (PARIS TEXAS).
Motto? KEEP ON KEEPIN' ON.
Where´s your god now? SAME PLACE THEY ALWAYS WERE.
Thank you very much for your time and the interesting answers.
I didn't think we were on the same wavelength in some points. I think it's particularly cool that you like TALK TALK and ROBYN: -)
So it only confirms once again that my belly always shows me the right way.
written by
Cloudy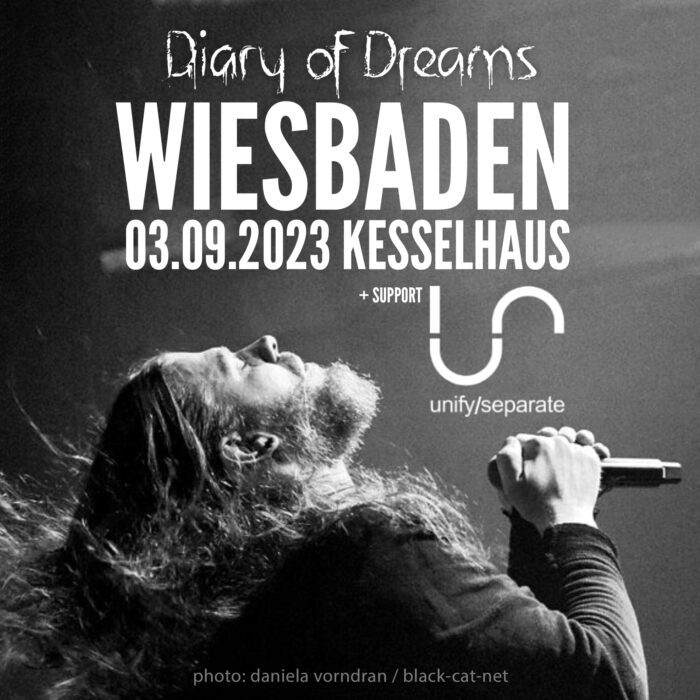 Concert in Wiesbaden
Heat, dust, sunburn, mud and rain – open airs in general – are not your thing? You prefer to watch bands in clubs? Then now comes the good news for you: DIARY OF DREAMS will play on September 3rd, 2023 at the Kesselhaus Wiesbaden. Unify Separate (formerly US) were invited as support. The band should already be known to many fans from previous concerts with DIARY OF DREAMS. All details about the concert at a glance:
Doors: 19:30
Start: 20:00
Tickets: https://schlachthof-wiesbaden.de/events/diary-of-dreams-2023
Unify SeparateUnify Separate [aka US ) are the Scottish-Swedish duo of ex-Geneva singer Andrew Montgomery and Lowe frontman Leo Josefsson, whose dark and beautiful electronic pop is a soundtrack for your dreams.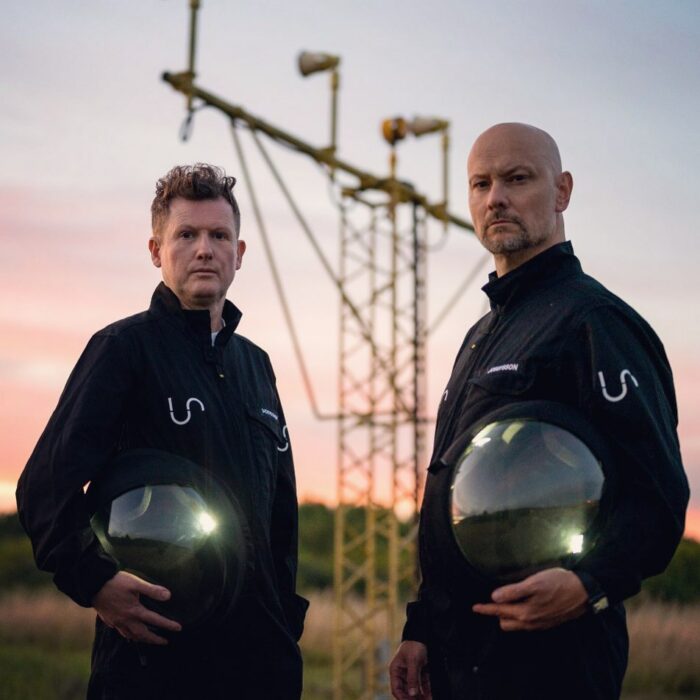 About Unify Separate
The pair started writing together in 2015, a few months after Montgomery had relocated to Sweden.
With a unique voice that's equal parts choirboy and soul boy, Montgomery made waves in the Britpop era with Geneva, scoring four emotive Top 40 singles and two critically-feted albums ('Further' and 'Weather Underground') on Nude Records between 1996 and 2000, touring with label mates Suede along the way. In 2014, after a long silence, he released his debut solo album 'Ruled by Dreams', produced by Sean McGhee (Robyn, Alison Moyet, Imogen Heap). The album attracted rave reviews in Q (4 stars) and Uncut (7/10).
Josefsson is a luminary of the Stockholm synth scene with the bands Lowe and Statemachine, whose work has been recognised with several Scandinavian Alternative Music Awards, including Best Newcomer, Best Live Act, Best Song and Best Album. He's also a respected video director who's worked with the likes of Kent, Miriam Bryant, Tilly & Elephant, Eric Saade, The Mobile Homes and Smith & Thell, and has technical direction credits for Rihanna and Robyn. He has a growing collection of analogue synthesisers that are taking over his studio by stealth.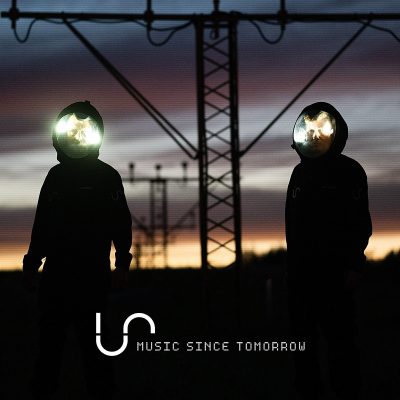 Review – Music Since Tomorrow
Today I will listen to albums for you again, completely unaffected, I just flew over the press texts briefly but do not know if someone known or who is behind the project, so I am excited!!!
… I've never heard of the next band!
It is:
Unify Separate
And the album:
Music Since Tomorrow.

Beautiful sounds, spherical sounds race through my ears, so I start listening to the new album of Unify Separate, after the metallic-breathed voices comes a hard electric bass, now the whole thing has something from Moby, at least it reminds me easily.
It goes well in the ear, nothing for long driving, because the song "Closure" already greatly calms down, but in the follow-up certainly a nice accompaniment to write or read!
The second song "Dying on the Vine" is quite different, so you can put on the track, much more positively, through the bright synth sounds, the music comes well, the voice is a bit quarky, but you get used to it!

Solitude & I is more for the heart again, here the voice reminds of the singer of Placebo, I had already read this in the press releases, here you can say maybe, here is less quact and more after the role model. The song is good, so a song with Brian Molko would sound, if he would produce e.g. with Solar Fake!
With a lot of vocoder effect on the voice, "Embrace the Fear" starts directly, the voice this time very high and flows virtually into the carrying music with a long voice under a hail of e-drums and keys. You can do just that.

Now I suddenly have something like U2 in my ear, "Visitors," but the voice quakt again something…, almost acoustically we drive on and look at who wants to visit us there.
Crap, so far I got in well, but now I arrived at ge/mixed emotions in the head, and that bothers me a little bit, okay "The Void" surely also finds his friends as well as "Radio Waves" which I somehow could not record, where Radio Waves goes a little better in the ear, the doubled voice in the chorus comes well,… but….. is tda the Molko Clon again?!
Skip and "The After" continue as before, a little more towards pop, this is also a well produced song, like the rest of the album, it gets a bit monotonous, it is certainly better to pull out songs and mix them between songs of other bands, the last songs "Way to Love," "Waiting Game," "In over My Head….," all GOOD!
Conclusion:
Well produced album with many great songs, which is a bit lacking in variety, but there is not a bad song, so listen quietly, who is looking for something between Placebo, U2 and VNV Nation, is right here, Suede is still in the press, I see just, but I could not hear it out, since I 😉 like Suede too much!
Tip: Solitude & I & Embrace the Fear (and then always exchange one or the other of the eleven songs for the playlist 😉)


Until the days!
Written by Karsten Zakrzewski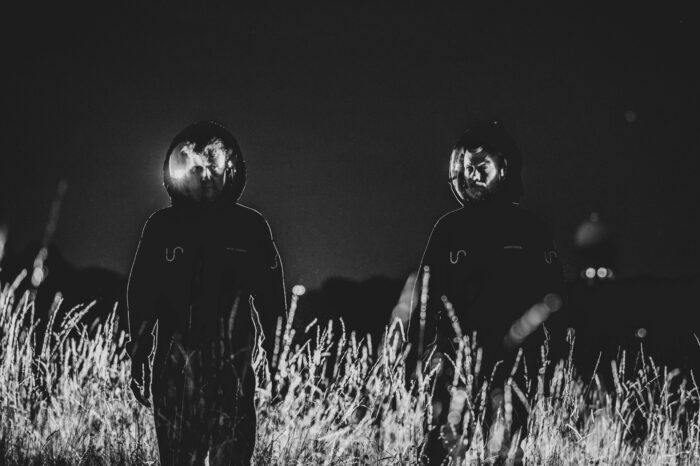 Interview
Thanks for your interest! Unify Separate are Leo Josefsson, who plays synths and produces, and Andrew Montgomery, who sings.
KKM: The latest album includes only new material or have you had it in the drawer?
A: Only new material. It took us three years to complete this album and there were enough things happening in our lives to inspire these new songs.

KKM: For the cd- which comes first for recording- lyrics or the music line?
L: It's very powerful when a song is born. We meet up in the studio and usually we both have something hanging over us (almost like halos) that entwine and manifest itself into a soundscape and a story that we feel we want to tell. After a couple of hours we take a break and step out of the bubble. Suddenly we have something that feels like it has always been there. Strange and beautiful at the same time. At times where inspiration is low it can be just as frustrating, but usually we always end up with something that is worth keeping working on. There are some songs that we didn't finish for 'Music Since Tomorrow' that I believe will be finalised at some point.

A: It's usually the music that inspires the lyrics, along with whatever is on our minds at the time, although both of us sometimes have lyrics up our sleeves that we want to build a tune from. That can be fun as it influences the structure of the music rather than the other way around. In any case, lyrics are really important. It's about communicating with others and sharing feelings that many of us out there have.

KKM: Have any of the new songs surprised you in terms of recording that took a direction and become different or better than you imagined? Would you be able to tell us more about it?
A: Good question! Yes, The Void was a song that had a soulful synth vibe to start with but it didn't quite sit right and was a little bit lightweight. Leo had the vision to make it into more of a new wave-sounding track, and suggested to me that I should shout-sing a different melody in the second verse. Once that was in place, it all began to click into place – sonically and lyrically. That was a great surprise!L: Actually no. I'm not surprised anymore. I rest assured that almost every time we will overdeliver when we create music together. It may sound pretentious but I'm constantly proud when I listen to our songs. Especially after some time. Kind of an outer body experience.

KKM: Concerning influences… what would you say that the musical influence would be which might be the most surprising to listeners?

A: Believe it or not we both think that Radiohead and Daft Punk are powerful influences on us, even those two bands are quite different. It comes out in a kind of uplifting, expansive melancholy, a happy-sad experience that is at the heart of this project.

KKM: The Lyrics are extremely well written. Are you lyrically influenced by any authors or books/literature?
A: Thank you, how kind! Not directly in my case as I write from whatever is in my heart, but both Leo and I are intrigued by dystopian visions of the future, as well as emotionally reacting to the strangeness of today's existence.
L: Andrew's language and the way he expresses himself is very powerful and I must say somewhat elegant. It's one of our greatest assets in the band. Andrew reads a lot and his knowledge when it comes to society and history constantly surprises me. Put him anywhere in the world and he will be a perfect guide. :-)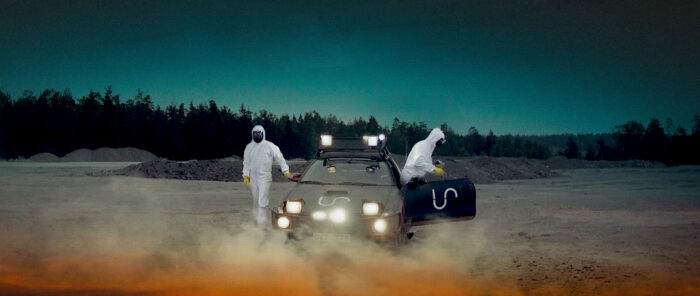 KKM: What do you think separates this album from the rest on the alternative genre?

A: We have our musical influences like anyone else but we would like to think we use them as a launching point to then rise above. There's no point in sounding just like another band, you have to truly express yourselves. Maybe too the higher vocals and blend of indie guitars with synths mark us out as a but different. We just want to be ourselves.
L: I might be taking this a bit off topic but… I have this idea that if you want to create music and express yourself as 'filterless' as possible the best thing would be to build a studio on the dark side of the moon. Not reading news, not listening to music, not reading books. Just running the treadmill to clear your mind, eating some apples and try to keep a sound mind. This is of course not the case but I think my mindset to some degree can create a foundation that is not built on the same concrete as everyone else. I might be wrong but I have a feeling that the majority of alternative bands have a strong passion for being unique but struggles with a wish to be commercial (reach out to a large crowd) at the same time. A contradiction that even we're fighting. My advice. Don't think so much and don't compare yourself too much.

KKM: How about remixes? Have you done many of those? If so, what would you say makes a good remix from the perspective of both the artist and the remixer?
A: We released a remix album calked 'To The End Of The World' around the time of our debut album, First Contact. It seemed to work well, as have some remixes of our second album singles, because the remixers have not been afraid to try and reinvent the songs. That's really important.
L: We have been blessed with many talented producers and bands that have put their time and energy into remixing our music and it's always very fun, enriching and powerful to hear their vision of our songs. We're opening up now to remixing other bands (and a couple are coming soon, tbc) in an ambition for opening up to collaborations with other artists.

KKM: Have you ever written anything that perhaps was outside the scope of Unify Separate, that might spawn a side project?
A: Interesting question! Leo is very prolific so that might work, and I sometimes have ideas that are not quite right for Unify Separate, but nothing fully formed as yet.
L: I constantly write and explore different soundscapes that perhaps will be released in some form in the future. I'm currently building a setup in the studio where I'm aiming to being able to perform music live (disconnected from the computer) with sequencers, hardware synthesizers and effects. Might result in something interesting. :-)

KKM: What's a live Unify Separate show like? Where were your live performances so far? And what is planned?
A: Our live shows are intense, thrilling and always well presented, as fans of Diary of Dreams and Suede, both of whom we've opened for, can attest. We're looking for more shows but that's not always straightforward these days. Fingers crossed!
L: To date we've performed in Sweden, Norway, Scotland and Germany but we're more than willing to play basically everywhere in the world.

KKM: As musicians- what do you prefer more? Studio and production or tours and festivals?
A: Leo is a studio boffin but also a great live performer. I personally live for the stage, even though the moments of creating new songs together is always special.
L: I enjoy studio work and playing live just as much. Being creative in the studio, trying out ideas and finalising the songs and then performing them live is a very worthwhile process… even though the amount of time and energy you put in to get to that point is somewhat insane.

KKM. At the end of a gig/tour when you get home, what is your next few days normally like? The mad rush to get unpacked or do you go straight to catching up with housework etc?
A: It's always a bit strange because family and other routines, including other work, soon bring us back down from cloud nine!

KKM: As a duo- are there more frustrations or would you say it's better as a duo than say a band with 6 members?
A: We have both been in multi-member bands and being in a duo is much easier to arrange and work with!
L: Agreed. Our set-up is perfect. I only have to wrestle down one person and as you might suspect Swedes are better athletes than Scottish.

KKM: Let's say that sometime in the far future, someone locates a recording of Unify Separate. What do you want them to learn from your message?
A: Another great question! I would say compassion, melancholic dreams and the insanity of love.
L: Perhaps not a special message. More get a feeling and understanding of what we were trying to portrait and help the listener escape to our world and perspective and the life we were living.

KKM: If everything goes as planned, what do you think we can expect from before the end of the year?
A: We have released our second album so we hope that will continue to keep reaching people and cause interest to keep growing.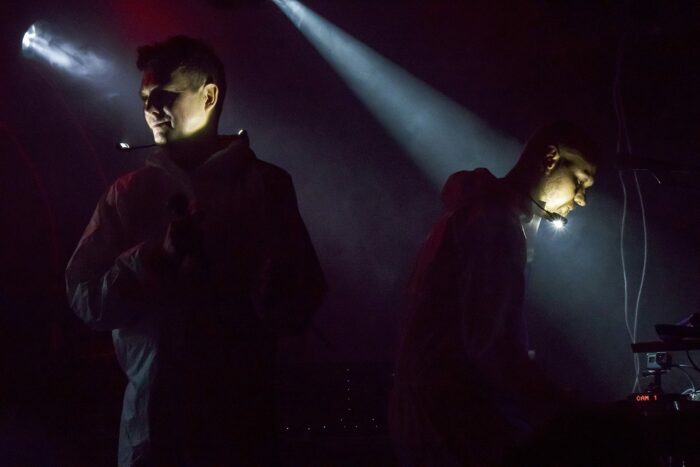 KKM: What do you care about most currently and is there anything with troubles you?
A: Being creative despite the great cynicism and devaluing of creativity; the state of the world we are leaving for our children.

KKM: Quickfire round:Favourite current book/movie?
A: Book: Tales of Soldiers and Civilians by Ambrose Bierce. Movie: I really want to see the new Bowie documentary!
L: Book: Patch and tweak with Moog. :-) Movie: The Peripheral (not a movie I know but I'll say it anyway).

KKM: If you could have 3 wishes, what would they be?
A: World peace; loads more gigs and festivals; that Leo gets the recognition he deserves for his amazing music production and film-making.
L: Thank you Andrew! The good thing is that you will ride along on that wish since it takes two to tango and boy you can tango!

KKM: Do you have any strange habits? Such as the tv needs to be an even number, you need to check a handful of times the door is locked etc?
A: When I get home in the early evening I immediately change into my pyjama trousers and pour a huge glass of Scotch whisky, to celebrate or curse the day that's been.
L: When I do the bed the pillows have to be placed in a very special order. It's quite common that I have to put on a t-shirt to feel if it has the right energy for that given day. Usually the first one doesn't feel right and I have to change a couple of times.

KKM: If you had the choice to be able to pick between talking with animals or knowing every language in the world, which would you pick?
A: Every language in the world. They don't call me Doolittle for nothing!
L: Talking with animals. It's worth a shot. Humans tend to misunderstand me. I've heard that sheep are good at irony.

KKM: If you could choose only one meal to have as dinner for the week- which meal would you choose?
A: Gourmet falafel, served by magic elves. Or a wonderful Italian risotto. Or ethical sushi from Tokyo Market.
L: Spagetti with pesto. Works all the time. In the weekend I would flip to pesto with spagetti.

Thanks for your time. Any last words can be yours
A & L: Thanks for YOUR time, Claudia! May you and your good readers continue to bathe in the blacklight of your dreams. Don't forget us, we'll be there with you. X
written by Claudia Tomaszewski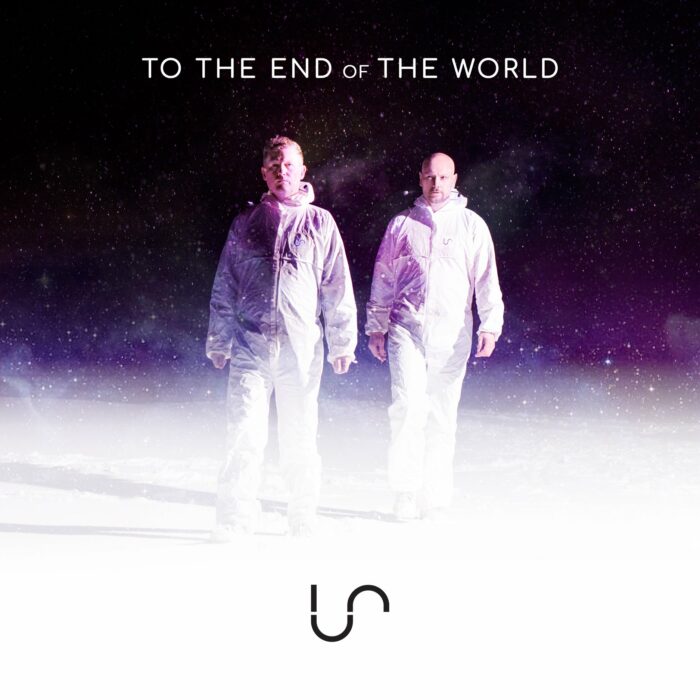 Listen here:
Looking here:
Buy: