Please take a seat to get to know us with Sea of Sin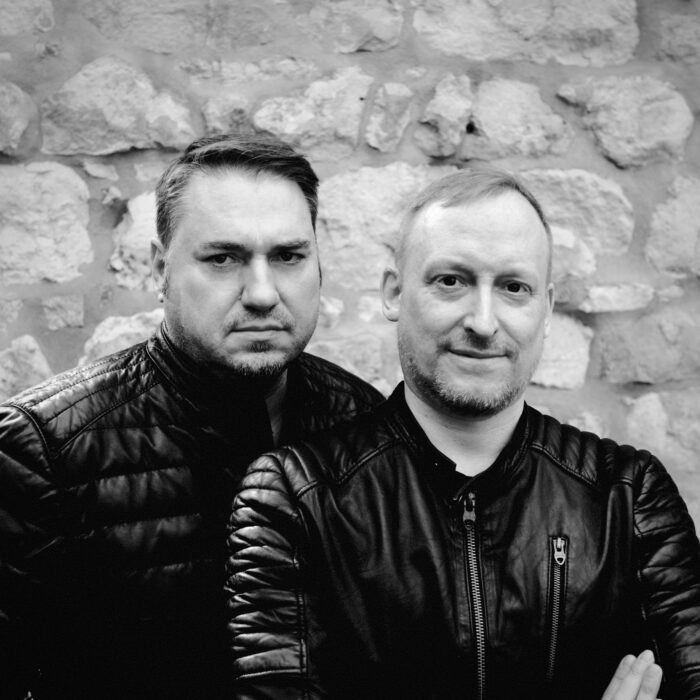 Not too long ago we invited Frank and Klaus to our sofa, what came out nice and mysterious :-) you can read here.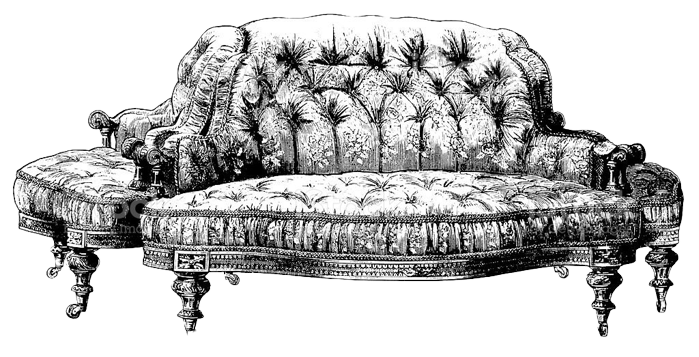 Where´s your god now?
Frank: In my heart and in my head. In fact I'm not a believer at all, but there are sometimes weak moments in everyone's life when it's good to have such a basis of faith…
Klaus: I'm not a believer – but I do believe in a higher power and Karma
Where are you and what are the vibes like?
Frank: I'm sitting on my couch enjoying my Sunday morning coffee – so my mood could be much worser ;)
Klaus: Right now I am sitting in a street cafe in Cologne
What was the last thing you ate?
Frank: Quite a lot ;) last night we had a wonderful barbecue in the garden with delicious salads, grilled vegetables, feta and great Italian salsicas…
Klaus: A very tasty brioche sandwich minutes ago
What was the last good book you read?
Frank: "Der Klang der Maschine" by Karl Bartos
Klaus: Marc Raabe – Zimmer 19
Favourite political figure?
Frank: Helmut Schmidt
Klaus: In recent times Barrack Obama had the greatest impact.
What TV Shows do you try not to miss?
Frank: I'm not a big TV show fan at all and prefer feature films and documentaries. Ever since I had children, I've been looking almost exclusively through the media library, which also takes a lot of the stress out of missing something that interests me. If it fits, I like to watch "Kitchen Impossible".
Klaus: I love Kitchen Impossible – other than that I mostly stream on Netflix (huge fan of old Shows like Friends)
What sports are you good at?
Frank: Cycling, hiking, badminton
Klaus: Table Tennis
Which public figures do you most despise?
Frank: Unfortunately there are too many to list them all here… :((
Klaus: A lot powerful people and political leaders with very bad influence and bias are out there – just look what happens in Ukrain right now, Trump surely also set a new level of embarrassment for a political leader
Favourite cities?
Frank: Istanbul, Paris, Edinburgh…
Klaus: Hamburg in Germany, Valencia
Most embarrassing records in your collection?
Frank: You can choose between Bananarama "Greatest Hits" or Samantha Fox "Touch me! 12 inch"… :))
Klaus: A lot of Hair Metal bands I listened to as a Teenager (eg Poison)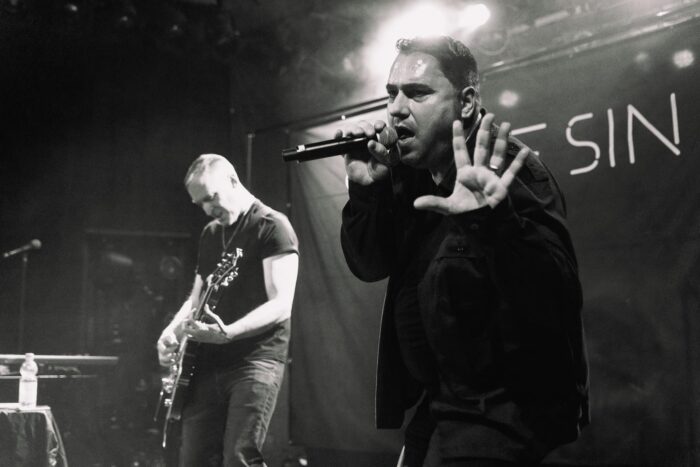 Punchline to fave joke?
Frank: Unfortunately I can rarely remember it – but at least there are some… ;)
Klaus: I am very bad at remembering jokes or punchlines
Favourite journeys?
Frank: There's quite a lot, for example my two trips to Istanbul or this year's Pentecost vacation in the Algarve. I particularly like to remember my small Germany tour with my family 2 years ago through various regions and cities
Klaus: 2 week trip through Sri Lanka – incredible island
Name three great songwriting partnerships?
Frank: Paul McCartney & John Lennon
Paul Simon & Art Garfunkel
The Edge & Bono Vox
Klaus: Too many to chose…
Worst lyric you´ve ever heard?
Frank: I'm blue
Da ba dee da ba di
Da ba dee da ba di
Da ba dee da ba di
Da ba dee da ba di
Da ba dee da ba di
Da ba dee da ba di
Da ba dee da ba di
Want some more?! :))
Klaus: A la la la la long – or something like that – this Song really annoyed me a lot back then
Favourite historical characters?
Frank: Karlson vom Dach ;)
Klaus: Can't really chose one
Who´s overrated?
Frank: Elon Musk, definitely!
Klaus: All Autotune Hiphop acts with hundreds of millions of (fake) streams
Who´s underrated?
Frank: Good question…?!
Klaus: So many Indie bands who struggle to cut through the clutter
What scares you?
Frank: Elon Musk
Klaus: How our planet might look like in 50-100 years
What bores you?
Frank: Unsympathetic and unempathetic egomaniacs
Klaus: A lot of those influencers out there
Can you quote a line of poetry?
Frank: Of course I could ;)
Klaus: "Die ich rief die Geister werd ich nun nicht los" …passt auch gut in die Zeit.. und irgendwie auch zu unserem neuen Album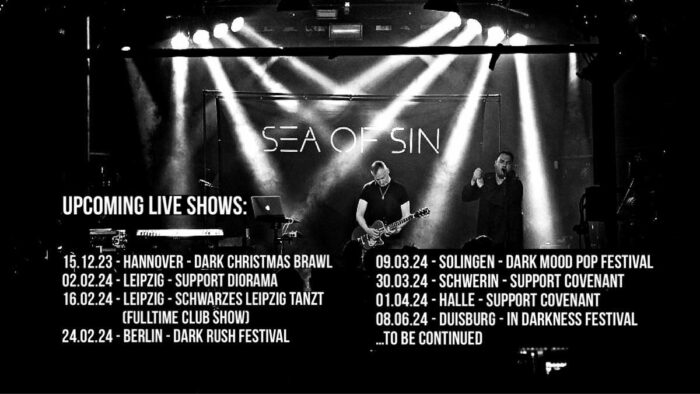 Where would you like to retire to?
Frank: Nowhere at the moment
Klaus: As much as I love Hamburg I think I would settle somewhere more South, Valencia being a top option
Name a song that can make you cry?
Frank: "Exit Music (For A Film)" by Radiohead, "Love Theme Fraom Spartacus (Zero 7 Mix)" by Terry Callier, "Hallelujah" by Jeff Buckley (sorry Leonhard Cohen), "Ohne Dich" by Selig, "Another Love" by Tom Odell – but there are so many more, if the mood suits it
Klaus: Barber's Adagio for Strings … though being a classic Song and having no lyrics, such an impactful composition
When were you last drunk?
Frank: I just got a Filmriss at the moment ;)
Klaus: Last weekend – though I swore to myself to stay away from alcohol for a while after the tour as special guest of Diary of Dreams
What was the last dream you can remember?
Frank: I rarely -if ever- remember my dreams – otherwise, I think I would have become a filmmaker instead of a musician ;)
Klaus: I hardly ever remember dreams
Three records guanranteed to make you dance?
Frank: "White Room" by the KLF
"Raising Hell" by Run-D.M.C.
"Violator" by Depeche Mode
"Vision Thing" by Sisters of Mercy
"Senderos De Traicion" by Heroes Del Silencio
"Schubert Dip" by EMF
"Stay Hungry" by Twisted Sister
"Paradise" by Inner City
Klaus: Killing Joke – Love Like Blood Skinny Puppy – Assimilate Light Asylum – Dark Allies
What can you cook?
Frank: I really like cooking and I can really relax while doing it! I try very different styles, such as French, Italian or Asian cuisine
Klaus: I make great Omelettes
Where do you go to chill out?
Frank: In the garden and forest, on the bike or in the kitchen
Klaus: A walk at river Elbe
What was the last great record you heard?
Frank: Last night "Mezzanine" by Massive Attack last night but there is
Klaus: Last heard (not released): The Killers – Pressure Machine … not what you would have expected I guess
Motto?
Frank: Carpe Diem!
Contacts:
seaofsin_official@gmx.de
Tel.: +49 – 176 – 800 55 962
https://ffm.bio/seaofsin-official
https://www.youtube.com/seaofsin_official
https://www.facebook.com/seaofsinGER